Comments from Clients

Went riding yesterday in the Cuyamaca mountains and realized we were all riding Hope horses. Gwen and Cash (Splash), Marilyn and Gambler, Aubrey and Paisley, Sharon and Nova.
We love Hope and her well trained horses!
Thank you again for the best horse ever!
Love Gwen

Awesome news about Journey (alias Irish). Before I had made the decision to sell her I sent her to my other trainer ( He trained my first horse and did a great job) After six weeks He thought I should sell her. I brought her back home and hired someone to sell her and to work with her. We decided to go on a huge trail ride. I rode Harley and the seller/trainer rode Journey. We had to cross a highway, came across a rattle snake, and there were 30 horses on the ride and Journey was awesome. I still had her up for sale but started taking a closer look at her and decided that I really needed to improve my riding skills and realize that Journey was NOT Harley. I took her off the market and now we go to Norco 2 days per month with Buzz, my trainer. She is happy as heck, doing great on obstacles and trail. I can honestly say that we are a team and we trust each other more than ever! I'm thrilled and look forward to many years of safe and fun rides.

I still have people wanting to buy her and have recommended that they meet with you as you always have good horses for sale.
Take care,
Carolyn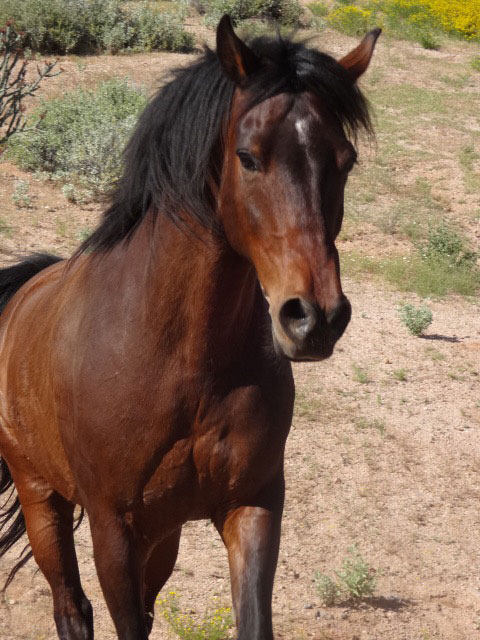 Dear Hope,
I just wanted to thank you a million times for my Kentucky Mountain horse GEORGE! He is so magnificent, talented, able and gorgeous. Sound, sure-footed, a delight to be with and ride. He makes up for all the things in my life that didn't go well and to give him great experiences and fun times is what thrills me most.
This horse has a special gift: he loves to ride behind my husband on his mountain bike. He goes through trails like butter and is not afraid of anything. Canyons, jungles, streams, open spaces, he loves them all and we are adding our now three-year relationship on massive horse camping adventures.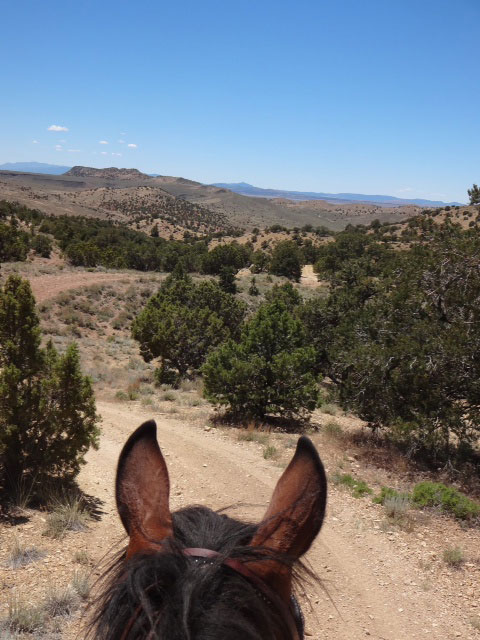 If I ever, God forbid, lost George, I would contact Hope immediately and have her send me one of her best. I believe in her, her crew and their training that much. They have done so much for me and my horse, giving me a horse that is far beyond my dreams. Never enough thanks can I give her. And George, too.
Ellie M.
Murrieta CA before; now New Harmony, Utah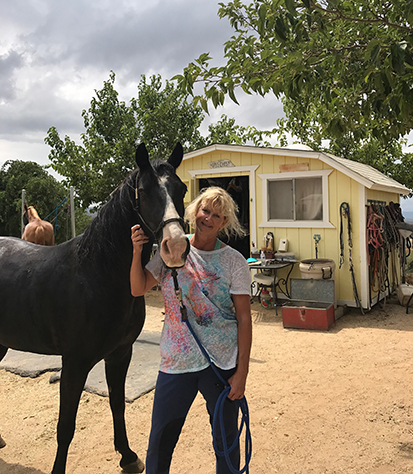 I'm just sooooooo happy I found Hope, She has quite a fan club at my ranch in Pine Valley, Marilyn, Donna, Joyce, and another Marilyn
If you are looking to buy a gaited horse, which if you've ever ridden gaited, you will never go back, save yourself time and money and just go see Hope Adams. I looked for months before I found Hope, let me tell you, she is the real deal. I was tired of being lied too, then I was referred by a friend who has dealt with Hope. When I got there to look at a Tennessee Walker, Hope had 5 different gaited horses all saddled up, and gorgeous, I called it a horse smorgasbord! I rode 3 of them and fell in love with a black Fox Trotter, he was it for me, this was 6 months ago, and I tell you, I would have paid double the price she charged. Since I bought Cash, 4 others from my ranch have also bought from Hope and all of them very happy horses owners, some of my friends even take their horses to Hope for training. And also, she is always available on the phone for me if I have any questions or issues. Thank You Hope! You and all the young girls at your ranch are wonderful, it was a pleasure working with you! JUST GO SEE HOPE!!!
Gwen J.
Pine Valley California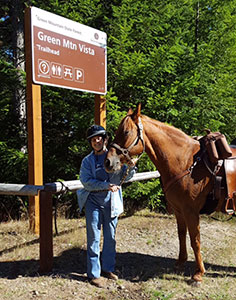 At the age of 51, I was finally ready to purchase my first horse. Hope Adams was recommended to me by a previous client.
After assessing my riding ability and aspirations, Hope had several horses in mind for me. A 10 year old Tennessee Walker named Memphis became the perfect match for me! I continued to take lessons from Hope for several months to learn more about what my gaited horse could offer. Memphis and I have been riding the trails for 9 years now!
Hope Adams is an extremely competent, knowledgeable and patient horse women. She is upfront and her reputation precedes her. She does not buy/sell horses. She connects a horse to an individual.
If you are interested in gaited horses at any level, I encourage you to contact Hope Adams. You will not be disappointed!
Thank you Hope for helping me find my riding companion Memphis!
C. Foster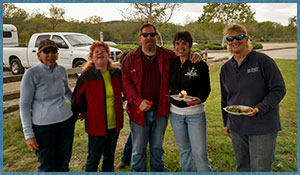 Hope,

5 of us connected to you and our horses are in the same ETI corral.

You have helped so many of us!!! Thank you.
We had quite the ride today. Narrow mountain trails, a river - we actually were riding in water higher than Pooh Bear's belly. We were in areas like a jungle and swamp. I thought Pooh Bear was not going to go. But when she got in, she was great. What a fun mare.
Thank you, thank you!!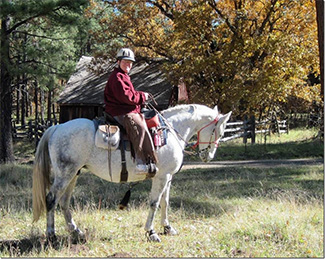 Hi Hope!

I just wanted to drop you a short email to say how much I appreciate you doing the clinic at Deb Hughes place in Pinedale. I had a great time and learned so much! I wish I could have taped the whole thing because I'm sure I missed a lot, but I also have my head full of useful information that will help my riding with Zane so much! I can't wait to try him out again with the cowboy martingale for instance. The head tossing thing had been bad for a long time and I wasn't sure what to do about it. I just want to try to be the rider he needs so we can both succeed as a team. I love him so much but am often short on knowledge to help us get better.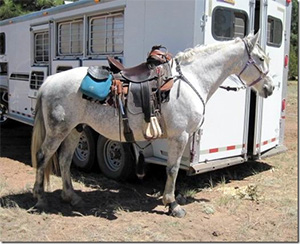 But you and your assistant (Claire?) helped me so much I can't thank you enough! If you ladies ever make it out this way again you can count on me to be there! If you were closer I would definitely hire you more often or send Zane to you for a while. This has been the most helpful training session I think I have ever had. It's really helped my confidence with him.
So a huge Thank you!

And what she looks like:

Kim Burd :)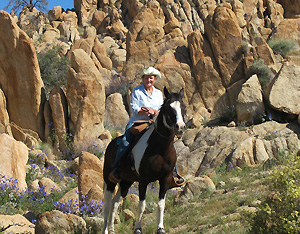 Hi Hope,
Just wanted to tell you again how much I love Promise. She is the perfect horse for me. We have been all over, High Desert and Low Desert riding. I can't get enough of her and she is such great condition. Can't thank you enough for bringing her into my life.
Trina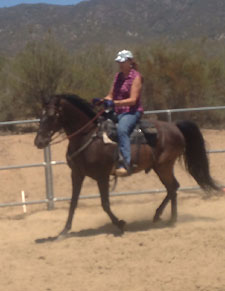 Well. I am thrilled to say Hope Adams did it again! I came to her to purchase a horse after a very bad accident where the horse was misrepresented as "safe". Ha! I didn't trust anyone in the industry till I found Hope. She sold me the perfect horse and it was a perfect fit. I went back to her to purchase y second horse, and she sold me exactly what I was looking for. Beginner safe, and beautiful. I now own a beautiful Missouri Fox Trotter that is gentle and super safe for my guests to ride.
I highly recommend Hope Adams as a safe place to purchase a horse from. Sadly, there are not many honest people in the horse industry, but you can trust Hope to represent a horse exactly as it is. If it is not a good fit, she will tell you and when she finds the right one, it will be right!
Dorna Brown

Hi Hope,

Just a quick update on Kobe. We finally went for a 2 hour trail ride Tuesday and he did great, up and down some pretty steep hills, went right into the river and stuck his head in the water almost up to his eyes, he was alert but totally under control. And after the ride we tied him to the trailer and he got his hooves trimmed right next to a busy road, he stood like a champ. I ABSOLUTELY LOVE THIS HORSE!!!!!! He is all you said he was and even more, so stinkin smart and affectionate. We have some booger obsticals set up in the round pen and he is really coming along nicely with them too.




I plan on taking him to a schooling show in Oct for the trail trials competition (just for fun) and many more trail rides for miles of smiles. :-) One of the best things I've done since dating my Alan back in 1997 was to fly down to meet you and spend the weekend learning about gaited horses. Thank you so very much for matching us up, he is perfect and you are the best.

Take care,
Sincerely,
Mary

Hope,

Here is a pcture of Kobe and I on our last trail ride, he walked right into the river, no hesitation at all. We are going horse camping Sept 14 and 15th, I think he will do awesome and we shall have so much fun. :-)
Mary

Hope,
I want to thank you so much for spending the time with me you did on Saturday and for getting Shiloh to where he is today. I had a great time! I feel comfortable on him and feel I can take him to the park by myself now. I feel another 30 days can only reinforce what you've taught him this far. I think I have found my forever partner thanks to you.
Thanks again
Sandi

Hope & Bill,
I rode Ace today in the arena. What a fabulous job you did with the gait. He is so smooth and better yet - he stays in gait. So LOVELY! I am really impressed and you did put a wonderful lateral amble on him. I like it a lot - much better than the foxtrot which he broke by trotting or cantering.
I used a bit with a snaffle mouth piece, with copper mouth and rollers with small curved shanks - some leverage but not a severe bit. He was very responsive and light. I'm sure that in time I can transition him to a plain snaffle or the level 1 Mylar bit.
Ace was always a nice horse - now he is a finished nice horse. You gals are great!
Again - thanks for such a superb job. I am happy to be a strong advocate for your work if you ever need an endorsement!
Lynn Ellen

Yesterday (Oct 2013) I went to Double A Ranch in Anza, CA. to meet with owner/trainer Hope Adams. I rode two horses that were advertised for sale. I also looked at other horses that were available for my consideration. Hope represented the horses very well, one on consignment, one being her own, plus the others I considered. Both horses which I rode were welI gaited and well trained and exactly as represented by Hope. It was refreshing for me, as an experienced rider and owner of horses, to find a person like Hope that tells it like it is, and explains about each of the horses exactly as they are, both good or bad (if any bad). I can now know that if I go to the Double A Ranch in Anza to see a horse for sale, I will not be wasting my time.
I write this due to having been very pleased with my experience there, and as a thanks to Hope.
- Gina Morrison, La Cresta (Murrieta), CA.

I am a beginner to the world of horses and when I bought my first horse, he was represented as "Beginner Safe". Well he wasn't, as I soon found out. He tested me and fought me at every turn and he ended up bucking me off. I shattered my hip when I fell and had to have hip replacement surgery.

I was very leary of sellers when I ventured back into the marketplace to find a safer horse. There are so many dishonest people out there selling horses that it makes it a very scary process.

It became quite evident that Hope Adams was an honest seller. She represented each horse as honestly and as accurately as possible even though the answer would turn me away from a purchase. She ended up selling me a truly "beginner safe" horse. Boy what a difference and what a joy to own and ride my new horse, Zephyr!! I finally found my forever horse and he is everything Hope Adams said he would be.

I would not hesitate to highly recommend Hope Adams. If you are interested in gaited horses, you couldn't find a safer person to purchase from. When the deal is closed, she's still there to help and answer questions. She is presently looking for a bit for me! She goes above and beyond and she is the one I will buy from again!

Dorna Brown
President
Development Solutions & Services, Inc.
818-591-0330 Ext. 101
818-424-1114 Cell
866-211-8976

To whom it may concern:

My Spotted Mountain Horse Shilah has just turned 4 years old, and had developed a dangerous habit of rearing, and one too many times I came off. So, after seeing how well trained my friend Nancy's horses all were, I decided to take her to Hope's place and pray that I wouldn't have to sell her.

Just short of 4 weeks later, my horse can now turn on her front end, and rear end. She can also side pass...none of which she had been trained to do by me. I had her going down the trail, and generally being a good horse. Not only is my horse trained, but Hope gave me lessons in how to give the correct commands to do these moves. Now, I feel so much more confident on her and know that she and I will have many great years together!

I want to let you all know how much I enjoyed riding my horse with you, after all the work you put into her knowing that she has had the best training possible.
Hope, thank you for opening your home up to me and allowing me once again to have hope with my horse.

Laura Densmore
Riverside, CA

I found the perfect mare. Never thought I'd ever be able to say that, but thank God I can. I knew my priority list on what I was looking for was pretty tough, but I got more than I expected. She is a 7-8 year old Trotter/Walker cross. She's not papered. It's the first time I have purchased a non-registered horse. It just goes to show you, that you must keep an open heart and mind. I got her from Hope Adams. This horse had previously two owners. I have done business with Hope in both buying and selling and I know Hope to be very up-front, honest and dedicated. She knew me for the past 10-12 years, knew what kind of a rider I was, was familiar with the MFT horse I've had for 17 years and had her eyes peeled out for sometime, for the right horse to come along for me.
I am back in the saddle again and loving it. Couldn't be happier.
Dawn

Hope,
Ziggy has been out almost everyday since he has come home. I have to tell you that when I left your place we drove up by the Paradise Cafe and rode out on the Pacfic Crest Trail. On getting to that trail I had to open and close gates. Zig side-passed into it & out of it like a pro!!! At the big rock statue he spooked a little, we relaxed and then he walked right up to it and touched it with his nose. I am so proud of my boy - and yes I do think he is going to become a very nice horse as he fully matures.
Thank you soooooooooooo much! ~Lita
RANCHO ROSENHILL
"From Foals to the Winners Circle"
http://www.ranchorosenhill.com

I sent Hope a sixteen year old Tennessee Walker who had never been able to do her gait correctly. She had had some professional training and I was a little doubtful she could change at this age. Over the winter months, Hope not only taught her to move correctly, but dealt with every aspect of her physical development, behavior and attitude. She came back not only more comfortable to ride, but also more relaxed, more trusting of people, and a generally much happier horse. Hope has that undefinable quality that makes a great trainer. Her consistent unwavering expectation of success imbues the horse with confidence. And then, great things happen. I can't speak highly enough of Hope as a trainer both of horses and riders. I will always be grateful for all that I learned from her. And....it was fun!
Thanks Hope.
Joan
Working with you was great for both of us. Having a bit of a back issue, so have been riding often, but not long ones. She has been great! The rushing and bit chewing have subsided except for a second or two just to let me know what she thinks of what we are doing. So thanks for everything. Even if I leave her here next winter, we will be in Palm Springs some and hopefully you two can take a drive down to the dessert and let us take you out to dinner.
Thanks again so much.
Joan

Hope,

Thanks so much for the pictures and the video. Dan and I agree that we could have spent years watching videos and working with our guys and would never have gotten them to where you got them. As I said -- "money well spent".

The boys seemed very happy to get home. We put them in the arena together and they ripped and ran, kicked up (you can't believe how high Gaitor can kick up his back end!) and genuinely seemed to be glad to be home. We will be running them through their lessons tomorrow then taking them on about an 8 mile trail ride in the mountains. I'm sure they will be great.

We can't thank you enough for all the good things you have done for them. We plan on coming up in another 4 to 6 weeks for another lesson. We'll keep in touch.

Take care and say Hi! to Bill for me.

Jill

Dear Hope,

I love her to death and we make a fantastic team. Thank you so much!

Topaz' is a Reg. Racking Horse, and competes in anything that Emily has asked her do, including dressage, swiming at the beach, trails and to many more events to list.

Emily
Jr High Student

I have had several horses in training with Hope off and on for the past seven or so years. Aside from her obvious talent as an excellent horsewoman, she tailors her training program according to each individual horse's physical and mental ability. In addition she considers the abilities of the owner and their intended use for their horse, whether for show or trail, daily riding or weekend warrior. Training horses is not only what she does, it is who she is.

Sincerely,
Jill Caldwell

To All Concerned
My name is Rod Caldwell and I must speak about a very special and talented horse trainer HOPE ADAMS of Anza California.
With the strong support of her Husband Bill Adams she has been able to build and maintain a wonderful boarding and training facility primarily working with and for Gaited Horses and their owners.
I met Hope in the spring of 2005 as my wife and I wanted a "smooth" ride out on the trails.
It was then Hope introduced me to a Red Gelding named REDMAN DYLAN D., the MFT love of my life! She taught me to ride and handle the BIG RED HORSE as he was not for everyone to ride.
Hope has been involved with horses all of her life and has worked as a Wrangler, pack station hand and as a show judge for numerous years. A kinder, sweeter trainer & person can't be found, I guarantee that.
As my primary hobby the most of my playtime has been spent with horses doing various riding events mostly with the quarter horse breed and had fun with sorting penning and the like. Now that I'm older I find the Gaited breeds more to my liking.
I was an average weekend rider and left a lot to be desired with respect to riding, caring for and handling a horse properly, however, since my acquaintance with Hope, that has all changed. She has helped me understand and care for the horse more thoroughly and appreciate my relationship with my horse much more.
She has a keen eye as to what is going wrong and always has a fix that's good for the horse, and whatever is good for the horse usually benefits his human companion.
I have watched Hope work with many folks and witnessed their improvements and observed their appreciation for this special lady.
My wife and I spend as much time as possible riding with Hope as she always has something going on such as clinics, group rides, short camping trip rides.
Horses are a learning process which is ongoing, and the more you learn the more you realize you don't know, which is why we need Hope.
It's fun and Hope has the talent to help us along this exciting adventure with THE GAITED HORSE.
Rod A. Caldwell
RAC
E_mail: AWOLROD@MSN.COM


In July of 2011 my wife and I purchased a Missouri Foxtrotter from Hope at Horsesrus. We also bought a gelding from another source near Hope in California. The horse we bought from Hope was so well trained that it took us several months to find 'anything' that Candi wasn't already prepared to do and do well. In fact the first ACTHA event my wife entered they won! The second horse which we purchased elsewhere has a very good head on him, but acted like the typical teenager at 6 1/2 and although he wanted to please, he was pretty well out of control much of the time. We found that he had been crammed with about 45 days of training to do specific things, but wasn't really comfortable with most activities. Since Candi had proven to be such an incredible horse, we took our young gelding to Hope for 5 weeks in December 2011. The results were nothing short of amazing! I took him to an ACTHA event the second week of January 2012 and he scored 92 points! He willingly does all kinds of things he would never have even approached before.

Hope and her assistant Claire worked nothing short of magic on him. Of course he has more to learn, but we were absolutely thrilled with what Hope accomplished in 5 weeks. We have not hesitated to recommend her to several other people, and will continue to do just that. Hope does a grand job in communcating with the rider in getting the best out of the horse.

Thanks so much Hope. Its a privilege to know you and see what you do with horses.

Jeff & Deb Hughes
Jeffrey O. Hughes Ph.D. Director EMG LLC
PH: 480 540 1596

Hope Adams,
I am proud to work with you! You have so much integrity & are truly genuine! You set an awesome example for both professionals and enthusiasts alike of how our industry works in a positive & professional manner !
Just Love working with you!
From your web master...
:-) Pam Bowman